Ibaraki Prefecture Disaster Base Hospital
Ibaraki Prefecture Disaster Base Hospital
Designated as "Ibaraki Prefecture DMAT Designated Medical Institution" as of July 27, 2010.
Designated as "Ibaraki Prefecture Disaster Base Hospital" on November 1, 2013.
What is a Disaster Base hospital?
A base hospital for disaster management is a medical institution that has advanced medical functions to provide life-saving medical care for serious emergency patients with multiple traumas, contusion syndrome, extensive burns, etc., which occur frequently in times of disaster, has the ability to receive seriously injured patients from the disaster area, and has a system for dispatching Disaster Medical Assistance Teams (DMAT).
What are DMAT (Disaster Medical Assistance Teams)? (Disaster Medical Assistance Team: DMAT)
The team consists of doctors, nurses, business coordinators, medical staff other than doctors and nurses, and administrative staff, among others. It is a specially trained medical team with the mobility to operate within approximately 48 hours in the acute phase after a large-scale disaster or mass-casualty accident with many injured or sick people that cannot be handled by the local medical system alone. The hospital has two teams and the team members are trained to respond to large-scale disasters not only in Ibaraki Prefecture but also in other prefectures while performing their daily medical duties.
DMAT Dispatch Results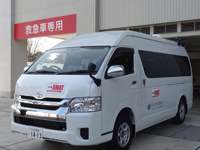 -Great East Japan Earthquake; March 12-13, 2011
-Tornado Disaster in Hojo District, Tsukuba City May 6, 2012
DMAT Training Results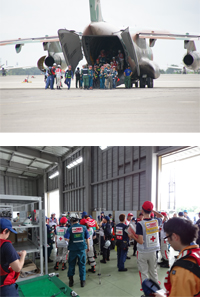 2012 Fiscal Year
-Joint drill for disaster prevention in nine prefectures and cities: Saturday, September 1, at the training site in Shiomi-cho, Choshi City, Chiba Prefecture
-NEXCO East Japan Disaster Prevention Center Demonstration Drill Wednesday, September 12 at Moriya SA, Ibaraki Prefecture
-Kanto Block DMAT drill Friday, September 20 – Saturday, September 21, all of Kanagawa Prefecture
-Tsukuba City Comprehensive Disaster Management Drill September 30 (Sat) at Tsukuba City Hall
-Kanto Block DMAT Drill Friday, November 10 – Saturday, November 11, Ibaraki Prefecture
-University of Tsukuba Hospital Comprehensive Disaster Drill December 19 (Wed)
2013 Fiscal Year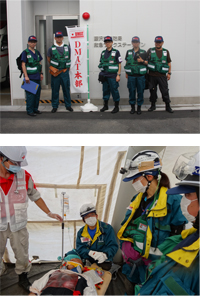 -2013 Hyakuri Aerodrome Aircraft Incident Response Drill Wednesday, July 31 Hyakuri Aerodrome
-Wide area medical evacuation drill Saturday, August 31 SCU, Iseshima Disaster Prevention Center, Mie Prefecture/abbr>
-Joint drill for disaster prevention in nine prefectures and cities Saturday, September 14 at Shiomi-cho, Choshi City, Chiba Prefecture
-Kanto Block DMAT drill Friday, September 20 – Saturday, September 21, all of Kanagawa Prefecture
-Joint drill for disaster response in Tsukuba Health Care Area October 1 (Tue), Tsukuba City
-Request for dispatch of DMAT in the event of multiple injuries and illnesses associated with the Tsuchiura City National Fireworks Festival Saturday, October 5
-Tsukuba City Comprehensive Disaster Management Drill October 6 (Sun) at Tsukuba City Hall
-Ibaraki Prefecture Comprehensive Disaster Management Drill Saturday, November 9, at Kasama City Art Forest Park
2014 Fiscal Year
-Hyakuri Air Base SCU equipment deployment drill Friday, August 1, at Hyakuri Air Base
-Wide area medical transport drill August 30 (Sat) Kumamoto SCU, hospitals in Miyazaki
-Ibaraki Prefecture and Kamisu City Comprehensive Disaster Prevention Drill August 30 (Sat) Kamisu City Central Park, etc.
-Kanto block DMAT training Nov. 28-29 Southern part of Gunma